What Is A Crown?
Crowns are full coverage restorations that are used to cover a tooth that is likely to break, or is too broken down to be restored with a filling. They are most commonly done after root canal treatment, or when a large filling wears out. The larger the hole made by a cavity that has to be treated, the more likely a crown will be needed. Even after a filling is put in a large cavity, a tooth is more likely to break. Keep in mind that the jaw muscles are the strongest in the human body. Teeth are subjected to tremendous pressures. Crowns ride over the weakened tooth, providing strength and protecting the tooth against breakage. A broken or cracked tooth is a far more serious matter and much more difficult to treat. Crowns prevent this, as well as making for a nice smile.
Porcelain Veneers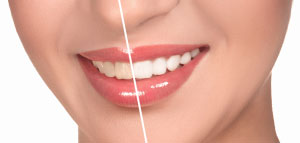 Porcelain Veneers can provide a number of benefits for your smile and self-confidence. Improved function of the teeth to correct problems such as TMJ or occlusion. Improvement of appearance of chipped, fractured, stained and uneven or worn teeth. They are known to be thin shells of handcrafted dental porcelain that are fitted over front teeth to repair smiles and bites.
E-Max Crowns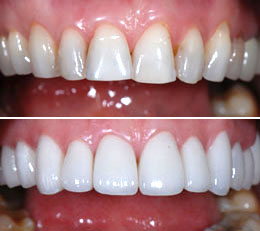 E-max Crown are all ceramic crown which is preferred for its longer lasting, aesthetic qualities. This crown and the Zirconia crown are worn due to their highly attractive appearance which ensures that they complement the rest of you teeth. It is combined with extra strength and durability. It is made of single block of lithium disilicate ceramic. This is known to be a top grade material which has been harvested for its toughness, durability and opaque which makes it a highly prized crown.
Lava Crowns & Bridges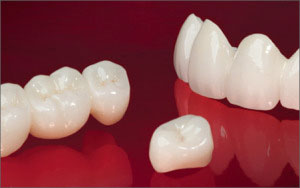 Lava Crowns & Bridges are touted as one of the most esthetic and clinically proven all-ceramic restorations available today. Lava restorations offer excellent long-term stability with no allergenic potential. Lava restoration demonstrates exceptional marginal fit, lifelike translucency and long-term durability. Prescribe Lava for anterior and posterior single-unit crowns, bridges up to 6 units inlay bridges, wing-type bridges, implant copings and cantilever bridges.
Bruxzir Solid Zirconia Crowns
Bruxzir Solid Zirconia Crown is a popular type of all ceramic crown which is worn to improve the appearance of a tooth which has become stained or disfigured over the years. Made of a strong material which is compatible with the human body. It is known to be a type of crystal which is long lasting and indestructible. BruxZir restorations exhibit similar to natural dentition, making them a restorative option in the anterior as well. It has been demonstrated that if a comparison was to be established in relation to a porcelain crown vs a zirconia crown, the bruxzir zirconia crown can be hit with a hammer and not break. It is known to be "chip-proof," "bullet-proof," and "virtually unbreakable." Financially it is known to be a bit more then usual, but it is strong and known to be the number one crown there is today in the u.s.
What Are The Benefits Of A Crown?
Before crowns, the only real option for a broken down tooth was extraction. Crowns have given dentists, and in turn patients, the ability to fix certain dental situations.
Cavities, or dental decay, occurs when acid-forming bacteria in the mouth are supplied with sugars. With these sugars as their food, the bacteria produce acid that eats away at the tooth, creating cavities. Usually, cavities can be drilled out and filled with tooth-colored composite (or silver amalgam) fillings. However once too much tooth structure is lost, fillings will no longer suffice and the tooth will need to either be extracted or crowned.
In addition to cavities, age, wear, and fracture are other reasons a tooth may require a crown. With age, teeth tend to turn yellow, wear down, chip, and become less attractive. In addition, teeth can fracture from over-use or by accident. In these situations as well, crowns are a great way to restore function, esthetics, and beauty to a smile.
It takes two appointments to restore a tooth with a crown. In the first any decay is removed from the tooth and it is shaped to accept the crown. Then an impression is made of the tooth for use in fabricating a crown. Between the two visits the crown is made, usually of high-strength porcelain over gold alloy, all ceramic material, or gold. During this time a temporary crown is worn. In the second visit this temporary is removed. Then the permanent crown is adjusted as needed and then cemented in place.