Home > Dental Implant Special Now Only $995 (two or more implants)!
This page was published on Oct 19, 2017, modified on Feb 11, 2021 by Dr. Dekhtyar (Dentist) of Broadway Family Dental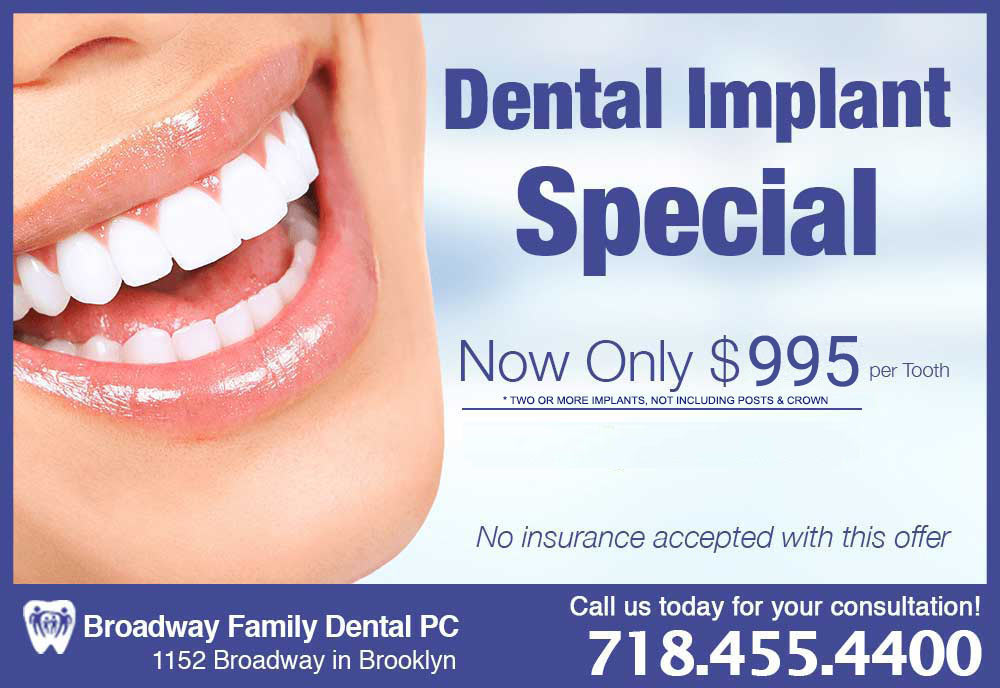 Dental Implants are artificial teeth that are fixed to the jaw to hold a replacement of a tooth or bridge. They are known to be one of the best options for those who have lost a tooth or teeth due to periodontal disease, injury, or for any other reason.To compare Implants with other alternatives such as crowns and bridges, they do not fill in the gap. They completely restore your entire mouth by having a replacement of a tooth.
Implants function just like your natural teeth by rooting into the jaw, resulting in a strong, and durable substitute. Since the implant post is secured into your jaw bone, you'll never have to worry about it falling out. What's more, the false tooth attached to the implant post will match the color and shape of the rest of your teeth. It will feel and looks just like your natural teeth! And under proper and diligent maintenance, implants can last you a lifetime.
Dentist in Brooklyn Dr. Dekhtyar is using only the best dental materials available in the USA. We work with top dental labs in New York and use only the highest quality dental components available on the market today including the best quality medical grade titanium or titanium alloy for dental implants.
Visit us for a Consultation and get that perfect million dollar smile again! Copy of this page must be present at the time services are rendered no exceptions will be made. Total Fee not including restoration (crown) and (abutment).
No Insurance or other discounts may be used/combined with offer. All work must be completed at Broadway Family Dental to qualify for Promotional Fee of only $995 per tooth.
Broadway Family Dental
1152 Broadway
Brooklyn, NY 11221
(Bushwick, Williamsburg, Bedford-Stuyvesant)
(718) 455-4400