A cosmetic dentist isn't just concerned with how you look. The best rated dentist Dr. Ella Dekhtyar of cosmetic dentistry center in Brooklyn, NY is a restorative dentist who also serves you and your family as a general practitioner. Your cosmetic dentist is a gentle dentist who provides outstanding family dentistry services from cleanings to fillings and gives you the best options for improving your appearance — often with same day dental work. A painless dentist keeps you healthy and enhances your smile with a cosmetic dentistry cost you can live with.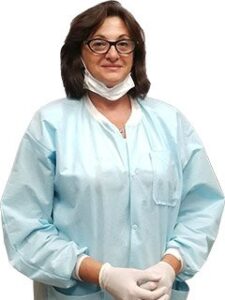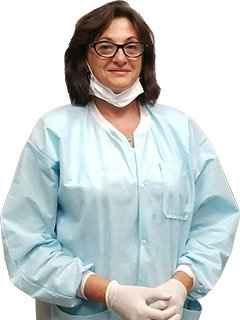 In Brooklyn, your cosmetic dentist performs everything from simple procedures to complex surgeries. Whether you need to straighten your teeth with affordable dentures or alleviate tooth pain with a root canal, your Brooklyn dental professional can help.
Cosmetic dentistry costs include a wide range of services that your dental insurance often covers. So, the best dentist in Brooklyn does more than just whiten teeth and offer veneers. When you go to Broadway Family Dental, you get a gentle dentist who solves problems too.
A Painless Dentist for All Your Needs
Restorative dentistry, commonly called cosmetic dentistry, is all-encompassing. The best dentist in Brooklyn provides services to maintain healthy gums and teeth while helping you improve your appearance. Additionally, your cosmetic dentist offers same day dental work for emergencies.
A cosmetic dentist works with you over longer periods of time to give you the smile you crave. But this Brooklyn dentist is a painless dentist who performs cosmetic, restorative and family dentistry services. Expect the same attention to your overall well-being when you visit the best dentist in Brooklyn for:
Your Dentist's Training
A license in family dentistry requires your dentist to earn a four-year degree followed by four years in dental school, where she earned a Doctor of Dental Surgery (DDS) designation. To effectively treat patients in the field of cosmetic dentistry, the best dentists focus additional training in aesthetic dentistry.
It's during this advanced training when your gentle dentist gains in-depth knowledge and experience to provide you with services that include:
Following the training, your dentist also passed a national examination that included both written and clinical sections. The tests in New York, as in all states, are supported by the American Dental Association.
General, Cosmetic and Family Dentistry
All the best dentists are trained in general oral care and dental maintenance. To make your regular visits and your dental procedures easier, it's always ideal to choose a professional gentle dentist who also is a painless dentist.
The best dentist in Brooklyn always focuses first on your overall oral health. Even when you have cosmetic goals for your teeth, you first need a healthy foundation. That's why your painless dentist first repairs any damage and/or decay in your gums and your teeth. These routine restorative dentistry procedures prepare you for the cosmetic work that results in a star-like smile.
Cosmetic Dentistry Cost
Your cosmetic dentist doesn't charge any more than an Brooklyn family dentist charges for routine procedures such as fillings, X-rays, check-ups and cleanings. The cosmetic dentistry cost is something that you can work out with your dental professional.
Rarely are purely cosmetic procedures covered by your dental insurance, so it's vital that you develop a solid relationship with your cosmetic dentist. When you trust your dentist, you can feel good about any recommendations to improve your smile. At the same time, your dentist openly discusses your options for payment. Any decisions have to work for your dental needs and your financial concerns.
Quality and Compassion You Can Count On
To feel confident in your appearance and to maintain your optimal health, you need a cosmetic dentist you can turn to with questions about possible avenues of care. The very first advice you'll receive, however, is basic:
Brush twice a day with fluoride toothpaste.
Floss at least once a day to eliminate food particles that get trapped between your teeth.
Receive professional dental cleaning twice a year for a deeper cleaning that you just can't do at home.
Use only at-home dental products — such as tooth whitening kits — that the best dentist in Brooklyn recommends. Follow directions closely for all at-home cosmetic dental procedures.
And when emergencies do arise, don't wait. Your cosmetic dentist in Brooklyn can provide emergency dental care when necessary. The longer you postpone treatment, the higher the cosmetic dentistry cost ends up being and the more you risk additional damage to your teeth and gums.
Do you have any questions for Brooklyn cosmetic dentist Dr. Ella Dekhtyar? Would you like to schedule an appointment with the best rated cosmetic dentist in Brooklyn, Dr. Dekhtyar of Broadway Family Dentistry, please contact our office for consultation. 
Dr. Ella Dekhtyar
(
Dentist in Brooklyn
)
1152 Broadway
Brooklyn
,
NY
11221
(Bushwick, Williamsburg, Bedford-Stuyvesant)
☎
(718) 455-4400
DISCLAIMER: PLEASE READ CAREFULLY
The information on this website is to provide general guidance. In no way does any of the information provided reflect definitive medical advice and self diagnoses should not be made based on information obtained online. It is important to consult a best Brooklyn dentist regarding
ANY and ALL
symptoms or signs as it may a sign of a serious condition. A
thorough consultation
and examination should
ALWAYS
be performed for an accurate diagnosis and appropriate dental treatment plan. Be sure to call a dentist in Brooklyn today or schedule a consultation with a best rated dentist Dr. Dr. Dekhtyar of Broadway Family Dentistry.