Dr.
Ella Dekhtyar

– Top Rated Dentist in Brooklyn

Dr. Ella Dekhtyar is a top rated, best in class cosmetic and family dentist. As a Brooklyn's top dentist she passionate about ensuring her patients receive the best and most appropriate dental care in Broadway Family Dental Center. She is one of the most highly regarded dentists in the community. Dr. Dekhytar has received multiple awards including America's Best Dentist and New York Magazine Best Dentists.

As a top dentist she brings a wealth of experience and skills to every patient. You'll find top rated, expert dentists, the most up-to-date, best equipped facilities and a relaxing atmosphere at Broadway Family Dental.
Education
Dr. Ella Dekhtyar obtained a Bachelor of Science Degree in Biology from NYU College of Arts & Science in 1996. She then decided to pursue a career in dentistry where she successfully graduated from NYU College of Dentistry in the year 2000.
In 2008 Dr. Dekhtyar completed her certification in Implantology at Montefiore Medical center. Dr. Ella has been in practice for over 17 years now! She is very well known in the State of New York.
Latest Cutting Edge Technologies and Treatment Options
Dr. Dekhtyar continues to take continuing education courses till this day to allow her to implement the latest cutting edge technology and treatment which can be more useful in her practice. She is a lifetime learner. She is a compassionate dentist who dedicates her life to giving beautiful and healthy smiles to her patients. She is one of the most highly regarded dentists in the Bushwick and Bedford-Stuyvesant community. Dr. Dekhtyar has received multiple awards in 2010 & 2012.
Award Winning Dental Expert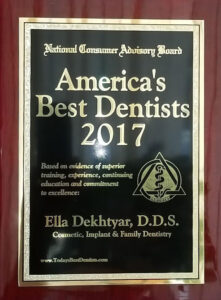 Dr. Ella Dekhtyar is an award winning dental expert and contributor to a prominent media outlets. She believes in providing truly personalized dental care without compromise. She is dedicated to provide the best aesthetic and functional results from cosmetic dental treatment. Patient's comfort and concerns are priorities during dental treatment in her Broadway Family Dentistry office.
Dr. Dekhtyar of Broadway Family Dentistry specializes in:
Dr. Dekhtyar prides herself in her ability to positively change people's lives through restoring their smiles and addressing their health concerns. Dr. Ella Dekhtyar currently a primary dentist at Broadway Family Dentistry knows how to address her patients needs and concerns. Dr. Dekhtyar always thrives to fulfill her patients expectations and never lets them walk out without having a smile on their face.
Broadway Family Dental is a state-of-the-art dental clinic where people from New York City and nearby areas of Bushwick, Stuyvesant Heights, Ridgewood, Liberty Park and Cypress Hills visit to manage the dental issues of their entire family. Whenever you require dental assistance, you should definitely consider the most experienced team of board-certified dentists at Broadway Family Dental.
Our office is conveniently located on 1152 Broadway, adjacent to Bushwick Ave and is easily accessible from Gates Avenue Station. If you are looking for effective, personalized, and affordable dental care combined with top-quality service, you should not wait any longer and contact us at (718) 455 4400.
Do you have any questions for dentist Dr. Ella Dekhtyar? Would you like to schedule an appointment with a best rated dentist in Bushwick, Dr. Dekhtyar of Broadway Family Dentistry, please contact our office for consultation with top Brooklyn dentist.
1152 Broadway
Brooklyn
,
NY
11221
(Bushwick, Williamsburg, Bedford-Stuyvesant)
☎
(718) 455-4400
DISCLAIMER: PLEASE READ CAREFULLY
The information on this website is to provide general guidance. Any provided information doesn't reflect definitive medical advice. Self-diagnosis should not be carried out on the basis of information obtained on the Internet. It is essential to consult a dentist regarding all symptoms or signs as it may be a sign of a serious condition. A
thorough consultation
and examination should
ALWAYS
be performed for an accurate diagnosis and appropriate dental treatment plan. Be sure to call a dentist today or schedule a consultation with Dr. Dekhtyar of Broadway Family Dentistry.