Dental Implant Special Now Only $995!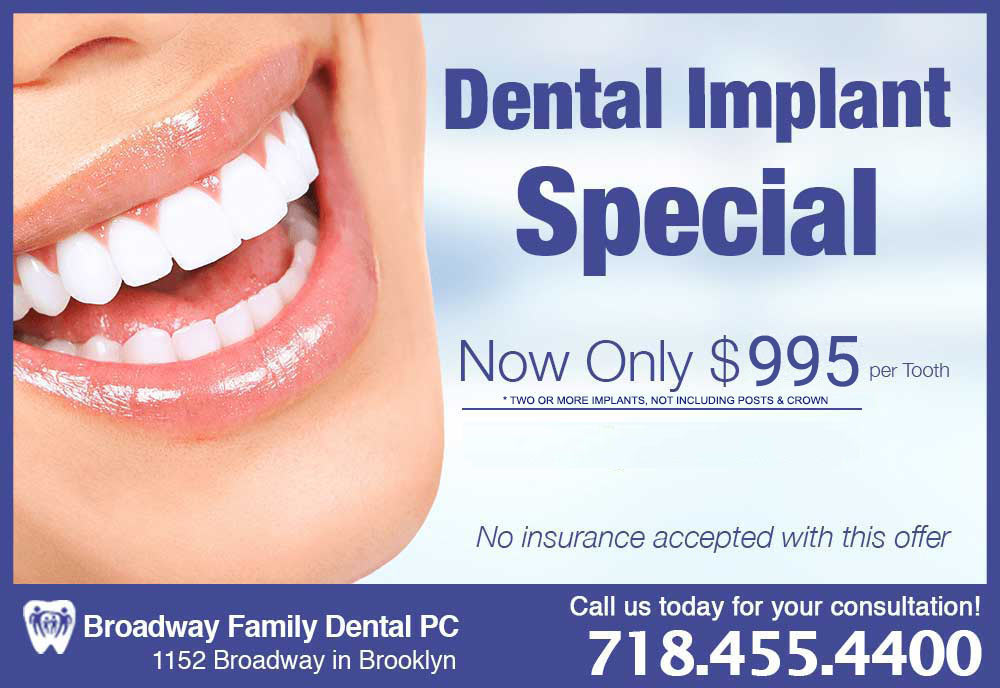 Dental Implants are artificial teeth that are fixed to the jaw to hold a replacement of a tooth or bridge. They are known to be one of the best options for those who have lost a tooth or teeth due to periodontal disease, injury, or for any other reason. To compare implants with other alternatives such as crowns and bridges, they do not fill in the gap. They completely restore your entire mouth by having a replacement of a tooth. Read more
---
GLO Teeth Whitening Special Now Only $395!
Advanced In-Office Teeth Discoloration Treatment

GLO teeth whitening in Broadway Family Dental delivers phenomenal results. GLO whitening system in Brooklyn is an effective, quick and painless teeth discoloration treatment.
In as little as an hour, you could see your teeth change color by several shades, so it's the perfect treatment if you want to achieve the very best outcome in a short space of time. Your dentist or a dental professional under their supervision will protect your lips and gums before applying professional strength whitening gel to your teeth. The gel may be activated with a dental laser which helps it to penetrate tooth enamel more efficiently, and the gel may be wiped off and reapplied several times during treatment. Read more
---
FREE Teeth Whitening For Patients Receiving Braces or Invisalign

Patients will be eligible for a free Teeth Whitening this Fall 2019 with any New Starting case of Braces or Invisalign available only at our Location 1152 Broadway Brooklyn New York 11221.
Cases need to be started on dates provided any day before or after will not be part of Promotion
Minimum Payment must be fulfill at starting of case and agreement must be sign at our location
Consultations without insurance are $125
Find out further details on this offer. Read more
---