Dental crowns are dental caps for your teeth that restore their shape and functionality. Getting teeth crowns for crooked or chipped teeth can restore your smile and your natural bite. And while dental crown costs are higher than pulling the tooth, your insurance usually covers a percentage of the cost, and crowns can last a lifetime. 
At Brooklyn family dentistry center we use only the best dental materials available in the USA. Dr. Dekhtyar works with top dental labs in New York and uses only the highest quality dental components available on the market today including the best quality medical grade titanium or titanium alloy for dental implants.
What Is a Dental Crown?
A dental crown is as much of an investment in a healthy self-image as they are to your continued dental health. Dental crowns and teeth caps are a solid way to repair your smile by making it stronger and improving its appearance. Teeth crowns also restore your teeth's natural shape and size.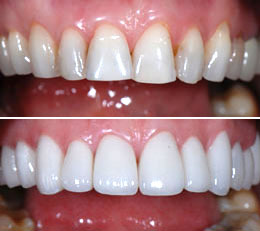 A dental crown serves as a teeth cap to cover either one of your own existing teeth or in conjunction with a dental implant. The tooth-shaped cap fits like a glove over your own tooth or the implant, covering everything above the gum line.
When Do You Need Dental Crowns?
Dental caps on teeth and crowns are often used to strengthen teeth if you have a large filling and there isn't really enough of your own tooth left to support the filling. Your Brooklyn, New York general dentist may also decide that a crown is the best way to anchor a bridge. But teeth caps and crowns are also used to:
Protect teeth that are weak
Restore any that may already be broken
Cover ones that are discolored or badly shaped
Protect a dental implant
When you're dealing with a leading family dentistry practice in Brooklyn, NY you know your smile and your oral health is the primary concern. While a crown can treat or correct the issues listed above, it's possible that you may need additional dental work such as root canal or filling to prepare for teeth crowns or dental caps.
How Much Does a Dental Crown Cost?
Dental crown cost can be a little steep, especially if you don't have dental insurance. But you can choose from several types of dental crowns, which affect the price:
Stainless steel crowns are prefabricated and typically used as a temporary fix while waiting for a permanent crown to be made.
Other metals and alloys with high gold or platinum content rarely chip or break and resist wear the longest. They're ideal for out-of-sight molars, which are subject to lots of force and wear.
Porcelain-fused-to-metal crowns have a much more natural appearance than metal ones. Your crown is color-matched to your surrounding teeth. These crowns put more wear on the opposing teeth and are more prone to damage.
All-resin crowns are less expensive than other types, but wear down over time. They're the most prone to fracturing.
All-porcelain or all-ceramic crowns have the most natural appearance. These teeth crowns are suitable if you suffer from a metal allergy. All-ceramic crowns can be used for front and back teeth.
Acrylic or metal-based temporary crowns restore or maintain your tooth until a permanent crown can be custom made for you in a dental laboratory.
The dental crown cost in Brooklyn, NY varies, depending on an array of variables. But the type of crown you choose and how much additional dental work you need have the greatest impact on your final costs. Generally, an individual dental crown cost between $800 and $1,700 or more. Most dental insurance policies cover at least a portion of this expense. Be sure to check with your insurance company.
Porcelain Veneers
Porcelain Veneers can provide a number of benefits for your smile and self-confidence. Improved function of the teeth to correct problems such as TMJ or occlusion. Improvement of the appearance of chipped, fractured, stained and uneven or worn teeth. They are known to be thin shells of handcrafted dental porcelain that are fitted over front teeth to repair smiles and bites.
E-Max Crowns
E-max Crown are all ceramic crown which is preferred for its longer-lasting, aesthetic qualities. This crown and the Zirconia crown are worn due to their highly attractive appearance which ensures that they complement the rest of your teeth. It is combined with extra strength and durability. It is made of a single block of lithium disilicate ceramic. This is known to be a top grade material that has been harvested for its toughness, durability, and opaque which makes it a highly prized crown.
Lava Crowns & Bridges
Lava Crowns & Bridges are touted as one of the most esthetic and clinically proven all-ceramic restorations available today. Lava restorations offer excellent long-term stability with no allergenic potential. Lava restoration demonstrates exceptional marginal fit, lifelike translucency and long-term durability. Prescribe Lava for anterior and posterior single-unit crowns, bridges up to 6 units inlay bridges, wing-type bridges, implant copings and cantilever bridges.
Bruxzir Solid Zirconia Crowns
Bruxzir Solid Zirconia Crown is a popular type of all ceramic crown that is worn to improve the appearance of a tooth that has become stained or disfigured over the years. Made of a strong material that is compatible with the human body. It is known to be a type of crystal that is long-lasting and indestructible.
BruxZir restorations exhibit similar to natural dentition, making them a restorative option in the anterior as well. It has been demonstrated that if a comparison was to be established in relation to a porcelain crown vs a zirconia crown, the bruxzir zirconia crown can be hit with a hammer and not break. It is known to be "chip-proof," "bullet-proof," and "virtually unbreakable." Financially it is known to be a bit more than usual, but it is strong and known to be the number one crown there is today in the U.S.
What Is the Procedure For a Dental Crown?
Rome wasn't built in a day, and your perfect smile won't be, either. At your first visit, X-ray technology is used to check the roots and surrounding bone of your tooth. If there is severe decay or risk of infection or injury, a root canal may be the next logical step.
Your Brooklyn dental expert then numbs your tooth and files it down to allow for the crown to be fitted directly over the top. During a dental crown process, a temporary crown is cemented into place. If a large part of your tooth is missing, your dental crown specialist uses filling material to build up your tooth to support the crown. After reshaping your tooth, putty or digital scanners are used to make an impression of your tooth for the lab to use for constructing your custom-fit crown, which is put in place at your next visit.
Talk to Your Brooklyn Dentist Today About Teeth Caps
Teeth caps can be the solution to your dental health issues. When done properly by a qualified dental professional, your crown looks exactly like one of your natural teeth, which is why you're lucky to have a top family dentist who also has extensive training in cosmetic dentistry. Once your crown is cemented into place, it's a durable and functional restoration for your smile.
Knowing you're receiving the best dental care in Brooklyn, NY offers peace of mind. Take the time to discuss all of your options fully with your dentist. This always ensures that together, you make the best decisions for your individual care and lifestyle needs.
Do you have any questions for a Brooklyn, NY dentist regarding dental crown, tooth crown cost, and dental caps? Would you like to schedule an appointment with the top Brooklyn cosmetic dentist, Dr. Dekhtyar of Broadway Family and Cosmetic Dentistry, please contact our office for a consultation. 
Dr. Ella Dekhtyar
(
Dentist in Brooklyn
)
1152 Broadway
Brooklyn
,
NY
11221
(Bushwick, Williamsburg, Bedford-Stuyvesant)
☎
(718) 455-4400
DISCLAIMER: PLEASE READ CAREFULLY
The information on this website is to provide general guidance. In no way does any of the information provided reflect definitive medical advice and self diagnoses should not be made based on information obtained online. It is important to consult a best Brooklyn dentist regarding
ANY and ALL
symptoms or signs as it may a sign of a serious condition. A
thorough consultation
and examination should
ALWAYS
be performed for an accurate diagnosis and appropriate dental treatment plan. Be sure to call a dentist in Brooklyn today or schedule a consultation with a best rated dentist Dr. Dr. Dekhtyar of Broadway Family Dentistry.