If you need new teeth – it doesn't have to cost you a fortune. Our world-class dentist, Dr. Ella Dekhtyar, will suggest the most appropriate and effective solution depending on your individual needs. You can choose from partial or permanent dentures. Flexible dentures are nearly unbreakable. Permanent snap-in dentures are put in place surgically. These implant tooth replacements are affordable in the long run because they last a lifetime. Our dentist, Dr. Dekhtyar of Brooklyn dentistry center, is the specialist for you!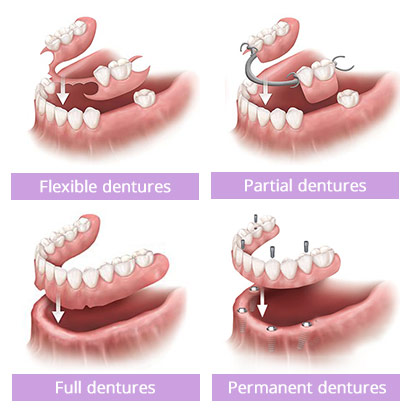 Wear and tear, accidents, injury, and disease- all of these things compromise your teeth. Proper dental care and good oral habits can save your teeth. But sometimes, the loss is inevitable. Even if you lose your teeth, your options are now better than ever, thanks to modern dentistry.
When you think of dentures, you may have a picture of your grandparents' teeth in your mind: the kind with an acrylic base that rarely stays in place and spend the night in a jar of water beside the bed. While those teeth are still in use in some places, our dentist offers you many denture options, including:
Full dentures
Partial dentures
Flexible dentures
Flexible partial dentures
Same-day dentures
Permanent dentures, such as implant dentures or snap-in dentures
Depending on your needs, you can choose the option that fits your lifestyle and budget. The differences between the types of replacement teeth are significant. Implant and snap-in dentures, for example, are not necessarily affordable.
What Are Flexible Dentures?
Flexible dentures provide a virtually unbreakable restoration. The flexible coating, also known as a liner, acts as a shock absorber between the hard base containing the teeth and your gums. The soft fit allows for continuous changes in your gums and jawbone as you age. The liner is nonporous, so you don't have to worry about bacteria build-up.
Your dentist can make you a full set or flexible partial dentures, depending on how many teeth you've lost. Flexible partial options are nearly identical to your natural teeth. This option costs a little more than traditional new teeth but takes less time, with fewer fittings. Most people report the comfort level is well worth the added cost.
Fitting and Caring for Your Flexible Dentures
Fitting for flexible or flexible partial dentures is a relatively quick and easy process. Your family dentist takes X-rays and impressions of your mouth and jaw to position your new teeth. Our dentist then constructs your personalized, flexible dentures. This is done onsite. In a few days, you have to come back to receive them and make sure they fit properly.
That's it. There's no surgery or invasive methods involved. You have zero recovery time. You still have to get used to wearing your new teeth, which may take a few days. The more you wear them, the more you get used to the feel. Most people report that it took much less time to feel comfortable with their flexible dentures than with traditional ones.
Flexible dentures are durable and almost unbreakable, so you don't need to worry as much about the cost of possible repairs in the future. But you do have to learn to care for your new teeth. You can use a sonic cleaner or rinse them under running water. Please don't use your toothbrush, as it can damage the polish.
Getting Same Day Dentures
Same-day service may be an option for you whether you need partial or full dentures. This option ensures that your smile is always complete from the moment you leave our dentist's office. Same-day dentures also protect your gums if you're getting them immediately after tooth extraction.
If you're concerned about cost and only want an affordable option, then the same-day option may not be for you. They can cost more than regular options. And not everyone qualifies for this option. Ask your dentist at Broadway Family Dental if same-day dentures are right for you.
Denture Repair
Regardless if you have a traditional implant, snap-in, or same-day dentures, accidents can happen. Even "unbreakable" flexible dentures can't withstand every trauma. Fortunately, our dentist can fix problems quickly to get your smile back to where it's supposed to be. Repair includes procedures to take care of:
Broken denture palates
Cracked dentures
Rebuilding of the denture gum area
Restoration of missing pieces of the dentures
Restoration of an implant
It takes a visit to allow your dentist to examine the damage and decide what needs to be done. Broadway Family Dental also offers emergency dental services that include repair. When something's wrong with your dentures, it affects your smile, as well as how comfortably you can speak and eat. Please don't wait for repair; see to it right away.
Affordable Dentures
Modern dentistry offers more options than ever before. Whether you and your dentist decide to go with traditional full, flexible partial, or implant dentures, your comfort, lifestyle, and budget are always considered. Affordable dentures can be your temporary or permanent solution. Ask your family dentist what's the best option for you.
Do you have any questions for Dr. Ella Dekhtyar, a Brooklyn dentist, regarding affordable (flexible, partial) dentures in Brooklyn? Would you like to schedule an appointment with the top cosmetic dentist, Dr. Dekhtyar of Broadway Family and Cosmetic Dentistry? Contact our office for a consultation.