You don't have to spend a fortune if you need new teeth. Based on your unique needs, Dr. Ella Dekhtyar, a world-class dentist, will recommend the most appropriate and effective solution based on your unique needs. You can choose from partial or permanent dentures. Flexible dentures are nearly unbreakable. Permanent snap-in dentures are surgically implanted and are cost-effective in the long run because they last a lifetime. Brooklyn dentistry center`s Dr. Dekhtyar is the right specialist for you!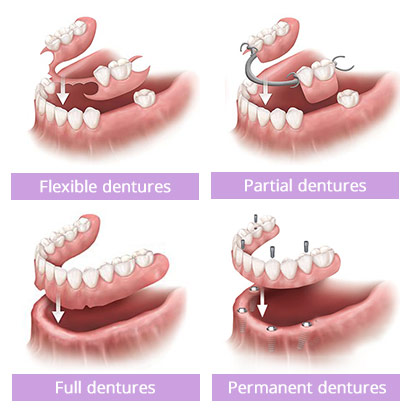 Wear and tear, accidents, injury, and disease are all potential threats to your teeth. Oral hygiene and proper dental care can help you save your teeth. However, sometimes loss is unavoidable. Even if you lose your teeth, your options are now better than ever, thanks to modern dentistry.
The word dentures may evoke memories of your grandparents' teeth: those with an acrylic base that rarely stay in place and spend the night in a jar of water beside the bed. While those teeth are still in use in some places, our Brooklyn dentures dentist offers you many denture options, including:
Full dentures;
Partial dentures;
Flexible dentures;
Flexible partial dentures;
Same-day dentures;
Permanent dentures, such as implant dentures or snap-in dentures.
You can select the option that best fits your lifestyle and budget based on your needs. There are important differences between the various types of replacement teeth. Implant and snap-in dentures, for example, are not always cheap.
What Are Flexible Dentures?
Flexible dentures provide a virtually unbreakable restoration. The flexible coating, also known as a liner, serves as a shock absorber between the rigid foundation that houses the teeth and your gums. The soft fit adapts to changes in your gums and jawbone as you get older. You won't have to worry about bacteria growth because the liner is nonporous.
Depending on how many teeth you've lost, your dentist can make you a full set or flexible partial dentures. The appearance of flexible partials is nearly identical to that of real teeth. This option is somewhat more expensive than traditional replacement teeth, but it is faster and requires fewer fittings. Most patients report that the increased comfort level is well worth the added cost.
Who Is the Right Candidate for Partial Dentures?
Patients eligible for partial dental dentures in Brooklyn must be free of active decay, periodontitis, or other dental condition that may weaken their teeth to the point where the appliance cannot be supported. The patient also must be willing to maintain regular appointments and properly care for their dentures.
Fitting and Caring for Your Flexible Dentures
Fitting for flexible or flexible partial dentures is quick and simple. Your family dentist takes X-rays and impressions of your mouth and jaw to position your new teeth. Then, our dentist will create your personalized, flexible dentures. This is done on-site. You must return in a few days to pick them up and make sure they fit properly.
That's it. There's no surgery or invasive methods involved. You have zero recovery time. You still have to get used to wearing your new teeth, which may take a few days. The longer you wear them, the more you get used to the feel. Most people say it took them far less time to become used to their flexible dentures than it did to their traditional dentures.
You won't have to worry about the cost of future repairs because flexible dentures are durable and almost unbreakable. However, you must learn how to care for your new teeth. You can clean them with a sonic cleaner or rinsing them under running water. Please do not use your toothbrush because it will damage the polish.
Denture Care
A partial denture requires consistent daily care. It should not be worn at night but instead soaked in a denture solution. The patient should also use special denture toothpaste and a denture brush to remove plaque and debris. When cleaning, take extra caution not to drop your appliance on a hard surface. To help protect dentures if they fall, place a towel on the counter or fill the bottom of the sink with water. After each meal, thoroughly clean your dentures with water to remove food residue and avoid plaque accumulation.
Getting Same Day Dentures
Whether you require partial or full dentures, same-day service may be an option. This option ensures that your smile is always complete after leaving our dentist's office. Same-day dentures also protect your gums if you get them right after tooth extraction.
If you're concerned about cost and only want an affordable dentures procedure in Brooklyn, the same-day dentures might not be suitable. They could be more expensive than regular options. Ask your Broadway Family Dental dentist if same-day dentures are right for you.
Benefits and Negatives of Dentures
Dentures are popular among Brooklyn patients because they are both convenient and natural-looking. Dentures procedures are less time-consuming than other forms of treatment because they are non-invasive. This low-cost dental treatment strengthens your jaw and mouth muscles and restores your eating functionality, considerably enhancing your quality of life.
However, you may experience some challenges after getting dentures. They may feel bulky and awkward to wear after being fitted for the first time, but you must persevere. Other issues you may encounter when wearing your dentures include:
Decreased ability to taste food;
Infection due to inadequate care;
Allergic reaction to compounds used to form the appliance;
Constant gagging from dentures that are too big or loose.
Dentures are now more secure and comfortable than ever, but they are still foreign objects in your mouth and can get loose when you eat or speak. If you currently have such issues, Dr. Dekhtyar can inspect your dentures and ensure that they are appropriately fitted.
Denture Repair
Accidents can occur whether you have a traditional implant, snap-in, or same-day dentures. Even "unbreakable" flexible dentures are not immune to all types of damage. Fortunately, our dentist can quickly resolve issues and return your smile to its original state. Repair entails the following measures to be followed:
Broken denture palates;
Cracked dentures;
Rebuilding of the denture gum area;
Restoration of missing pieces of the dentures;
Restoration of an implant.
It takes a visit for your dentist to assess the damage and determine what needs to be done. Broadway Family Dental also offers emergency dental services, including repair. When something's wrong with your dentures, it affects your smile and your ability to speak and eat comfortably. Please don't put off the repair; see to it right away.
Affordable Dentures
Modern dentistry offers more options than ever before. Whether you and your dentist choose traditional full dentures, flexible partial dentures, or implant dentures, your comfort, lifestyle, and budget are always considered. Affordably priced dentures can be a temporary or permanent solution for you. Ask your family dentist what's the best option for you.
Do you have any questions about affordable (flexible, partial) dentures in Brooklyn for Dr. Ella Dekhtyar, a Brooklyn dentist? Do you want to meet with Dr. Dekhtyar at Broadway Family and Cosmetic Dentistry, the top cosmetic dentist in town? Contact our office for a consultation.