Damaged teeth can make it hard to eat, speak, and even embarrassing to smile. Teeth can crack or decay due to injury, gum disease, or aging. You can replace your damaged teeth with Lava crowns and bridges. Your new teeth will have high strength, longevity, and esthetics.
Lava crowns and bridges are the most esthetic and natural-looking new teeth. They are perfect for front teeth restoration. Read about lava crowns and bridges and how they can benefit you.

What are Lava Crowns & Bridges?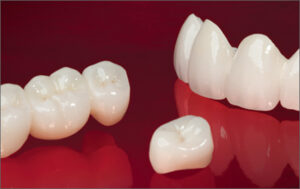 Lava crowns and bridges are used to restore damaged teeth. These are long-lasting tooth overlays that are placed over your teeth to enhance their function and appearance. They can be dyed before being placed on your teeth. This way they match all your other teeth. You can also have translucent lava crowns. Your natural tooth color shines through.
Lava restorations offer excellent long-term stability with no allergenic potential. Lava restoration demonstrates exceptional marginal fit, lifelike translucency, and long-term durability.
Lava teeth do not require cement. This means your natural tooth does not get damaged in the process.
Lava zirconia material can be used for front and back dental crowns, wing-type bridges, cantilever, inlays, onlays, overlays, and implant copings.
What Are Lava Crowns Made of?
Lava crowns and bridges are made of Lava zirconia. This porcelain material gives Lava crowns their natural look, without compromising on strength. Zirconia is durable and translucent. The color of your own teeth shines through for a natural look.
Lava zirconia does not stain, chip, or break.
Who Can Get Lava Crowns and Bridges?
Teeth are naturally prone to wear and tear. If you have periodontitis or experienced an injury your teeth can decay. Lava dental crowns can restore your teeth to look better than ever. A Lava crown can prevent a weak tooth from getting further damage or restore a broken down tooth.
How Long Do Lava Crowns and Bridges Last For?
Lava crowns and bridges last for an average of 15 years. If you take good care of them- your lava crowns can last up to 30 years. The benefit of lava zirconia material is that they have outstanding mechanical properties. The translucent tooth-like material is strong and crack resistant.
While providing you the most aesthetic and strong teeth available in cosmetic dentistry, Lava crowns and bridges do not damage your natural teeth. Only a small amount of your tooth will be trimmed to accommodate the thickness of the crown. Most of your natural tooth structure is preserved.

If you have any questions about Lava crowns and bridges or would like to schedule a consultation in Brooklyn please contact our office today.
Dr. Ella Dekhtyar
(
Dentist in Brooklyn
)
1152 Broadway
Brooklyn
,
NY
11221
(Bushwick, Williamsburg, Bedford-Stuyvesant)
☎
(718) 455-4400
DISCLAIMER: PLEASE READ CAREFULLY
The information on this website is to provide general guidance. In no way does any of the information provided reflect definitive medical advice and self diagnoses should not be made based on information obtained online. It is important to consult a best Brooklyn dentist regarding
ANY and ALL
symptoms or signs as it may a sign of a serious condition. A
thorough consultation
and examination should
ALWAYS
be performed for an accurate diagnosis and appropriate dental treatment plan. Be sure to call a dentist in Brooklyn today or schedule a consultation with a best rated dentist Dr. Dr. Dekhtyar of Broadway Family Dentistry.