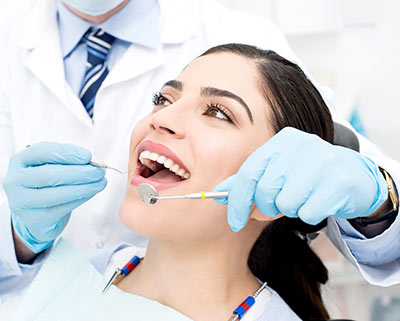 According to scientists, toothaches are some of the hardest types of pain for a person to endure. That is why when it comes to our oral health, we usually want nothing but the best.
But how to find a good dentist in Brooklyn you can trust to provide pain relief or dental care you need? For most people, this journey begins with a Google search for something along the lines of "the best dentist near me".
This is a good first step but it's important to know what to do next. You will need to filter out the results and narrow down your choice to a nearby dentist you can trust and use for life.
To help you with finding the best dentist in Brooklyn, we've put together a list of things you need to do in order to find a good dentist in your area.
Look for a Local Dentist Near You
There is a good reason why so many people start their hunt by searching "dentist near me". Seeing a dentist is stressful enough, driving long distances will not only take more time away from your busy schedule but end up making the whole situation even more stressful. It will also probably make you postpone your regular dental checkups due to inconvenience. Choosing a local dentist in Brooklyn who is conveniently located will make your visits easier and more comfortable.
Check the Reviews
Although you shouldn't rely too heavily on online reviews, this is still a great way to help narrow down your list of local dentists. First, you should note that you shouldn't just read Google reviews, you can also find reviews on Yelp and numerous other websites. However, keep in mind that some bad reviews may not reflect the level of expertise or the level of patient care provided by the dental specialist since certain factors are outside their level of control.
At the same time, positive reviews should also be closely examined. When somebody leaves a five-star review stating that the front desk staff was friendly, although it's important, it doesn't necessarily tell you anything about the actual dentist or the quality of treatment provided.
Ask People You Trust
Another good way to narrow down your search for the "dentist near me" is to ask your trusted friends and relatives. There is a very high chance you know some people who needed the care of a local dentist in the past and who can share their experience and opinion about their chosen dental specialist. But remember that every person's dental health needs are different and the same goes for everybody's personality, so it's worth keeping an open mind about their opinions.
Check the Credentials
Once you have narrowed down the list of dental specialists who piqued your interest, the next step is checking their credentials. The first thing to check is if they are board-certified and have a state license. You should also check if they are members of professional associations such as the American Dental Association. Also, the field of dentistry has a wide range of more specialized certifications that include the following dental specialties:
Oral and maxillofacial surgery
So, if you need an implant specialist, then your general or family dentist may not be the best option, and as they won't have the specialized credentials for your specific dental needs. Another good thing to look for when trying to find a good dental specialist is if they have any academic appointments, or clinical and research fellowships. It's a great way to gauge how committed they are to their profession.
A good dentist is always continuing their education and refining their knowledge. One way to know you've found the best dentist near you is when they are qualified enough to teach others.
Check if the Dentist Takes Your Insurance
Before you schedule your appointment, check with your insurance company to make sure your chosen dentist is covered. It's also worth talking to the dental clinic to make sure they will accept your insurance. Many good local tooth practitioners will list the accepted insurance providers on their website and will provide useful information about billing.
Schedule an Appointment With a Dentist in Brooklyn
Once you find a specialist with the necessary credentials for your needs, the next stage is to make an appointment with the "dentist near me" that you chose. Before you visit their Brooklyn dental clinic, it can be worth writing down specific questions so you can get the information you need.
Some of the questions you may want to ask are
Do they submit claims to all insurance providers?
Is there any payment options for non-insured patients?
Do their office hours fit your schedule?
Does the dental center offer specials for new patients or show appreciation for returning patients?
What type of anesthesia is the dentist certified to administer in order to make you more comfortable and relaxed during dental treatment?
Is emergency dental care near me provided outside of office hours?
What's the doctor's approach to preventive dentistry?
Are the cost estimates and treatment plans discussed upfront?
What is their policy regarding missed appointments?
When you finally visit the dental practice, pay attention to how clean and neat their office is, how courteous the staff is, and if they use up-to-date equipment. Your first visit should be just a consultation so you can determine how comfortable you feel with that particular dental specialist. Since you and your Brooklyn dentist will likely be long-term oral health care partners, it's crucial to find someone you can be fully comfortable with.
If you find it hard to communicate with them or that they don't explain things very well, it could be worth switching even if they are the best-rated dentist in New York. You may also want to consider seeing another dental clinic if the treatment you are recommended is costly or if you don't understand the reason why it's necessary.
Frequently Asked Questions
Why Do Regular Dental Visits Matter?
Regular dental visits are essential for your oral health. You should understand that there are certain conditions that can develop asymptomatically. Even if you think that you have no dental issues, it is better not to skip the dentist check-up. Only a dentist can detect early signs of conditions like gum disease or tooth decay. Moreover, regular in-office teeth cleaning removes plaque and tartar and reduces your risk of developing gum disease.
What to Expect During a Dental Visit?
During the visit, the tooth practitioner will clean your teeth and examine your oral cavity. If there are signs of certain conditions, a dentist may perform additional diagnostic procedures. In case you have cavities or other dental issues, your dentist will explain your options and what needs to be done. Hygienists carry out professional teeth cleaning and explain to patients how to brush and floss their teeth properly.
How Much Does a Dental Visit Cost?
The cost varies depending on the amount of work done and your geographic location. The average cost is approximately $300. It usually includes an exam, x-rays, and professional teeth cleaning. If additional diagnostic procedures are needed, the cost may change.
What Should Be Done to Maintain Proper Oral Hygiene?
Proper oral hygiene is a set of oral care procedures that are aimed to make your teeth and oral cavity clean. To maintain proper oral hygiene, you should thoroughly brush your teeth twice a day and use dental floss daily. Choose a toothbrush with soft bristles to avoid enamel scratching and gum injuries. It is also important to perform professional teeth cleaning to remove plaque and tartar.
While finding the best dentist in Brooklyn for your specific dental care needs is important, it doesn't have to be difficult. It may seem hard at first, but when you do find the dental specialist you can trust, they could be treating your oral health care needs for years to come. We hope our tips will be helpful in making your search for a good dentist easier.