CERAMIC BRACES: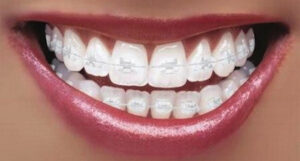 If you're looking for an almost-invisible orthodontic option to correct the alignment of your teeth, you might consider ceramic braces. Created from composite materials, ceramic braces blend-in with the color of your teeth. Because they are "tooth-colored" and the mini rubber bands that hold arch wires to the teeth are also tooth-colored or even colorless they are almost invisible. Ceramic braces are just as strong as traditional metal and yet resist staining.
ADVANTAGES OF CERAMIC BRACES :
Ceramic braces straighten misaligned teeth and bring imbalanced jaws into correct alignment.
Without correction, crowded and cooked teeth can be difficult to clean properly, leading to periodontal disease.
When teeth and jaws are poorly aligned, the extra effort required to chew can strain muscles and tendons, causing long-term pain.
Ceramic braces blend with most teeth, particularly if they are not perfectly white, and are not very noticeable at a distance or in photographs.
Many patients feel that they are more comfortable than metal brace and irritate the lips and gums less.
With these and other benefits, it's easy to learn and practice effective routine orthodontic cleaning at home and it's actually similar to the routine you would use without your orthodontics. Because bits of food can become lodged in the brackets and wires, be diligent about frequent brushing and flossing, especially after meals, to avoid cavities and the buildup of tartar.
Even more important: keep your ceramic braces from breaking or becoming loose, it's best to give up some hard and sticky foods up for the duration of your treatment such as candy, tough vegetables, nuts, hard-crusted bread, pizza, and bubble gum.
CONSIDERATION FOR CERAMIC BRACES :
The clear/white ligatures (elastics) can become stained, defeating the aesthetics of the ceramic braces. Monthly adjustments and replacement of ligatures is important.
Ceramic brackets are are typically more expensive than traditional metal brackets.
Treatment can take a few months longer in ceramic braces.
Ceramic braces are slightly larger than metal brackets.
For cases with severe problems, ceramic brackets may not be strong enough to withstand the forces of some types of treatment.
Get in touch with us today to find out more about Ceramic Braces in Brooklyn, New York. To learn more, schedule a consultation with our experienced orthodontist to see which teeth straightening options is best for you.
Dr. Ella Dekhtyar
(
Dentist in Brooklyn
)
1152 Broadway
Brooklyn
,
NY
11221
(Bushwick, Williamsburg, Bedford-Stuyvesant)
☎
(718) 455-4400
DISCLAIMER: PLEASE READ CAREFULLY
The information on this website is to provide general guidance. In no way does any of the information provided reflect definitive medical advice and self diagnoses should not be made based on information obtained online. It is important to consult a best Brooklyn dentist regarding
ANY and ALL
symptoms or signs as it may a sign of a serious condition. A
thorough consultation
and examination should
ALWAYS
be performed for an accurate diagnosis and appropriate dental treatment plan. Be sure to call a dentist in Brooklyn today or schedule a consultation with a best rated dentist Dr. Dr. Dekhtyar of Broadway Family Dentistry.