Damon Self Litigating Braces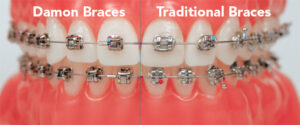 One of the latest technological advances in orthodontics is Damon fixed braces. Conventional fixed braces require an elastic to hold the wire in place. The elastic exerts a frictional force which has to be overcome before the wire is able to work and move your teeth. Self ligating braces are able to hold the wire in place without the need for an elastic. This means the wire is able to move freely from the outset to allow your teeth to move freely and comfortably.
Advantages of Damon braces
As the brackets are self-ligating the wire is continually working allowing you to have longer intervals between your appointments, we can see you every 10-12 weeks rather than 6-8 weeks to minimize the disruption to your normal daily schedules. The brackets are smaller and without elastics, they are much easier to keep clean. As the braces are freely moving the treatment duration may be reduced compared to conventional braces.
Difference Between traditional Braces and Damon Braces
1. Instead of using Elastics, the brackets on Damon Braces are a passive self- litigating system. The wires are held in place by a sliding mechanism. This allows for more freedom of movement and eliminates the need for tightening by the orthodontist.
2. The wires used in Damon Braces are lighter than traditional wires, only 0.014 inches in width and with the use of unique shape memory technology. They are composed of copper, nickel and titanium allow. Teeth have the ability to move faster and fewer adjustments will be necessary.
Besides removing the unpleasant tightening experience, eliminating the elastics also produces a more attractive final result. With Traditional braces, elastics tend to be a gathering place for plaque. Damon fixed braces are easier to keep clean, resulting in less hassle for patients. The brackets are attached to the teeth with a laser-etched pad. This patented method of bonding provides more opportunities for customization and creates a strong and reliable bond.
The Damon System is appropriate for both kids and adults. More and more adults are choosing orthodontic treatment to improve their appearance. Clear Damon brackets are available for people who are concerned about presenting a professional image to the world. The material used is resistant to staining caused by foods like coffee, wine, and mustard.
Frequently Asked Questions
What are Damon braces?
Damon system braces make use of a slide mechanism to connect archwires to the bracket. At the same time, this mechanism allows the wire to move freely. This technology is known for the reduction of friction and improvement of oral hygiene. This is achieved by eliminating elastic ties. Damon fixed braces offer a broader smile in comparison to conventional cosmetic braces.
How much do Damon braces cost?
The cost of damon braces in Brooklyn can range from $3,000 to $8,000. The final fee is highly influenced by the degree of correction you need and the complexity of the procedure. Other factors that have an impact on the total cost are:
Length of treatment
Insurance coverage
Your geographic location
Before deciding to make use of this option, make sure to request the total cost. Additionally, keep in mind that not all the providers offer the same quality, therefore, conduct your research beforehand.
Does dental insurance cover the cost of Damon system braces?
There are a lot of insurance companies that cover the cost of orthodontics treatment, including, but not limited to the Damon braces. Although, the coverage might vary. Your best bet would be to contact your insurance providers to clarify the extent of coverage for your individual case.
How to find high-quality Damon braces near me?
Broadway Family Dental is proud to be the number one choice for patients looking for affordable and personalized dental care. Our Brooklyn Damon braces specialists have extensive experience in the field of orthodontic treatment. Broadway Family Dental is the place where you can voice all your concerns and get the smile you have been wanting for a long time.
Dr. Ella Dekhtyar
(
Dentist in Brooklyn
)
1152 Broadway
Brooklyn
,
NY
11221
(Bushwick, Williamsburg, Bedford-Stuyvesant)
☎
(718) 455-4400
DISCLAIMER: PLEASE READ CAREFULLY
The information on this website is to provide general guidance. In no way does any of the information provided reflect definitive medical advice and self diagnoses should not be made based on information obtained online. It is important to consult a best Brooklyn dentist regarding
ANY and ALL
symptoms or signs as it may a sign of a serious condition. A
thorough consultation
and examination should
ALWAYS
be performed for an accurate diagnosis and appropriate dental treatment plan. Be sure to call a dentist in Brooklyn today or schedule a consultation with a best rated dentist Dr. Dr. Dekhtyar of Broadway Family Dentistry.