When you ponder Invisalign vs. braces, your Invisalign doctor lets you know if you're a good candidate for the clear Invisalign retainers. Invisalign attachments and the Invisalign retainers are ideal if you're an adult who doesn't want anyone knowing you're wearing braces. And the Invisalign teen response is even better. Talk to your dentist about getting Invisalign braces in Brooklyn, NY as part of a smile makeover.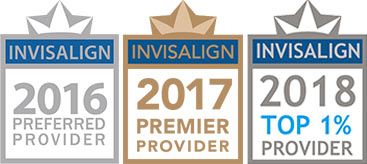 The days of having metal braces as your only option for straightening crooked teeth are over. In fact, you have a number of options for adolescent and adult braces. A smile makeover is easier than ever, especially when your family dentist is also a cosmetic dentist concerned with both your health and appearance.
One of the most popular choices for clear braces is Invisalign appliances. An Invisalign retainer with Invisalign attachments allows you to go about your regular business without worrying how you appear to others. And every day, your teeth become a little straighter.
You Have an Invisalign Doctor at Broadway Family Dental
Your Invisalign doctor at Brooklyn, NY family dentistry explains how long you need to wear your Invisalign retainer. There are a number of variables. But don't be concerned if you have to wear them longer than you would have to wear traditional braces. The advantage of invisible braces makes your Invisalign vs. braces decision an easier one.
The length of time required for Invisalign to work well depends on particulars such as whether you have:
Additionally, other dental issues may need to be addressed before you can be fitted with your Invisalign retainer. Cavities must be filled. Any root canals must be completed. And all gum disease treatments must be performed appropriately. If teeth need pulling to allow for better alignment, you need to have that done first and wait for your mouth to heal before proceeding with Invisalign braces.
Invisalign Preparations
Before being fitted with Invisalign attachments, your Brooklyn, New York dental specialist reviews your x-rays, takes a thorough history and performs an extensive examination of your teeth. An Invisalign teen procedure may require talking to parents to learn about teeth problems that may have occurred in the family's past. To complete the assessment, you may need 3D x-rays or a mold made of your teeth.
You'll return in a few weeks to get your first fitting with your Invisalign braces. They look like molded trays that slide on top of your teeth. The custom-made devices are clear plastic that's BPA-free and pliable so they move smoothly with your jaw.
Invisalign Teen and Adult Retainers
Your teenager may have to wear his Invisalign retainer for more than a year, depending on his age, how badly his teeth are misaligned and what stage of development he's currently experiencing. Adults, on the other hand, usually see dramatic improvements within that first year.
Both adults and teens must return to the Invisalign doctor monthly for checkups and adjustments. Following those regular visits, you may have to get a new mold and receive a new retainer to accommodate the changes that have occurred so far.
Invisalign vs. Braces Process
The clear Invisalign attachments are not ideal for everyone. You may need to rely on traditional metal braces if you:
Have big gaps in your teeth
Have a bridge
Can't keep the trays in place for 22 hours every day
Have bite problems with your back teeth
Need your teeth aligned vertically
The waiting period between the exam and the placement of your braces is much better with Invisalign vs. braces. It may, however, take you a while to get accustomed to the feeling. Speaking may give you some trouble until you get used to having the plastic trays in your mouth. You can take out your retainers to eat, brush and floss.
Even though they aren't as heavy as traditional metal braces, Invisalign braces can still cause mild pain because there is pressure being placed on your teeth. At first, you may need to rely on pain relievers to handle the discomfort. And you still have to maintain good daily oral hygiene by brushing and flossing two to three times a day.
Wearing Your New Invisalign Braces
Once you're fitted with your custom-made Invisalign braces, you usually can resume your normal activities the very next day. That first day, plan on resting and undergoing some discomfort. And you'll need a day to get used to the plastic in your mouth.
Track your experience and pain levels so that you can report the details to your Invisalign doctor when you visit. Keeping up with your dental appointments is vital to your continued success too. And before you know it, you can lose the retainers and just flash your new, winning smile.
1152 Broadway
Brooklyn
,
NY
11221
(Bushwick, Williamsburg, Bedford-Stuyvesant)
☎
(718) 455-4400
DISCLAIMER: PLEASE READ CAREFULLY
The information on this website is to provide general guidance. Any provided information doesn't reflect definitive medical advice. Self-diagnosis should not be carried out on the basis of information obtained on the Internet. It is essential to consult a dentist regarding all symptoms or signs as it may be a sign of a serious condition. A
thorough consultation
and examination should
ALWAYS
be performed for an accurate diagnosis and appropriate dental treatment plan. Be sure to call a dentist today or schedule a consultation with Dr. Dekhtyar of Broadway Family Dentistry.