What is Invisalign?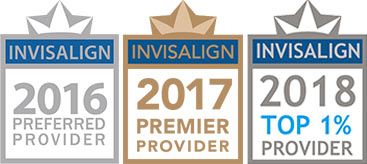 Invisalign is the invisible way to straighten teeth without dental braces. Invisalign uses a series of clear, removable aligners to gradually straighten teeth, without metal or wires.
How does Invisalign work?
Invisalign uses 3-d computer imaging technology to depict the complete treatment plan from the initial
position to the final desires position from which a series of custom made, clear " aligners" are produced.
Each " aligner" moves teeth incrementally is worn for about two weeks, then is replaced by the next in the series until the final position is achieved.
What are the primary benefits of Invisalign?
Invisalign is clear. You can straighten your teeth without anyone knowing.
Invisalign is removable. Unlike braces, you can eat and drink what you want during treatment. You can also brush and floss normally to maintain good oral hygiene.
Invisalign is comfortable. There are no metal brackets or wires as with braces to cause mouth irritation, and no metal or wires means you spend less time in the dentist's chair getting adjustments.
Invisalign allows you to view your own virtual treatment plan before you start so you can see how straight
your teeth will look when you treatment is complete.
What are aligners made of?
Aligners are made of clear, strong medical grade plastic that is virtually invisible when worn.
What do aligners look like?
Aligners are clear and look similar to tooth-whitening trays, but are custom made for better fit to move teeth. Some orthodontist and dentists have referred to them as " contact lenses for teeth"
Is this a new way to straighten teeth?
For years, orthodontists and dentists in Brooklyn have used removable appliances for limited treatment. Today, with the application of computer technology and custom manufacturing, Invisalign treats a broader range of cases with greater precision.
Do doctors need special training in order to use Invisalign?
While Invisalign can be used with virtually any treatment philosophy, specific training is needed. All orthodontists and dentists interested in treating patients with Invisalign must attend training before cases will be accepted from their office. Close to 30,000 orthodontists and dentists worldwide are certified to use Invisalign.
How does Invisalign effectively move teeth?
Like brackets and arch wires to braces, Invisalign aligners move teeth through appropriate placement of controlled force on teeth. The principal difference is that Invisalign not only controls forces, but also controls the timing of the force application. At each stage, only certain teeth are allowed to move, and these movements are determined by the orthodontic treatment plan for that particular stage. This results in an efficient force delivery system.
Dr. Ella Dekhtyar
(
Dentist in Brooklyn
)
1152 Broadway
Brooklyn
,
NY
11221
(Bushwick, Williamsburg, Bedford-Stuyvesant)
☎
(718) 455-4400
DISCLAIMER: PLEASE READ CAREFULLY
The information on this website is to provide general guidance. In no way does any of the information provided reflect definitive medical advice and self diagnoses should not be made based on information obtained online. It is important to consult a best Brooklyn dentist regarding
ANY and ALL
symptoms or signs as it may a sign of a serious condition. A
thorough consultation
and examination should
ALWAYS
be performed for an accurate diagnosis and appropriate dental treatment plan. Be sure to call a dentist in Brooklyn today or schedule a consultation with a best rated dentist Dr. Dr. Dekhtyar of Broadway Family Dentistry.