About Lingual Braces: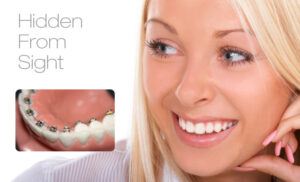 Lingual Braces are identical to traditional braces, except instead of attaching them to the front of the teeth, orthodontists place lingual braces on the back of the teeth. The main benefit of lingual braces, is that other people will remain unaware of your braces. Lingual braces are an option for working adults. The braces are customized based on the patients mouth structure. Lingual braces are often called incognito braces because they are next to invisible. By binding the braces behind your teeth you will have to really go looking to see whether or not somebody has these types of braces.
Who can use lingual braces?
Lingual braces can be used by anyone who requires traditional braces to realign, re-angle their teeth and more. Orthodontic braces and the use of lingual braces can work to correct these issues over 18 to 36 months on average so that a person can one day enjoy a perfect smile. In the past, braces were one of the only options that were available to complete this type of action but today even the look of traditional metal braces has changed greatly and the materials that are used are lighter and work more efficiently than ever before. Other treatment options such as lingual braces also make it convenient for people who are worried about their appearance throughout treatment. Many adults especially older patients simply do not want to have traditional metal braces that will show whenever they want to show off their smile. Lingual braces offer a solution and can provide an orthodontic treatment without braces getting in the way.
The advantages/disadvantages:
Lingual braces have some great advantages when it comes to preserving aesthetics throughout your orthodontic treatment. If you don't want anyone to know that you're undergoing an orthodontic treatment these are good ones to choose.
The main disadvantage however is that this type of treatment is more expensive and only certain orthodontists know how to install lingual braces. An orthodontist must be qualified through specialized training to install lingual braces so it may take some time to find an orthodontist in your area who can offer these services. Lingual braces also take a while to install and are a little more difficult and uncomfortable to adjust; this is because the braces are generally much smaller and have lower profile construction than that of traditional braces.
What are Lingual Braces for?
If you have misaligned, crocked or badly angled from teeth that makes you smile less than flattering, ortho braces can solve your condition over 36 months, depending on the severity of the condition you want corrected.
Cost of Lingual Braces:
The cost of Lingual Braces is higher than traditional metal braces. You can expect that the treatment cost for Lingual braces will be roughly $1,500 to $2,000 greater than the cost of traditional metal braces. One of the biggest factors are the cost of the materials for Lingual braces. The materials used with metal braces are more commonly produced and therefore less expensive.
Lingual Braces a Better Aesthetic Alternative:
If patient want a less conspicuous option for their braces and a more cost effective solution that exacts less tedium and discomfort for both the patient and the dentist, using ceramic or clear braces offer a more aesthetically inconspicuous solution than regular metal braces and is easier to install and have adjustments made.